Swap your office wear or school uniform to a rugged hoodie! And by that, we mean, transform yourself into the modern day Robin Hood and try out archery shooting at Red Dynasty Paintball Park! Introducing Archery Tag into our exciting range of unique teambuilding activities for you. Archery Tag is fast gaining popularity in Singapore as a fun activity for group teambuilding. Red Dynasty Paintball Park is excited to offer this engaging and challenging activity at our premise. Team up with a group of up to 15 persons and enjoy a day of archery tagging battle. Take a time machine and go back to the medieval days where archers formed an important component in any warfare. Reserve your archery tag session with us and we promise you that, at the end of your event, everyone will be ready to place an apple on their head!


Terms and Conditions:
Non-refundable full payment is required to secure the booking.
Only available at Red Dynasty Paintball Park (The Cage Sports Park @ Turf City , Bukit Timah).
Normal terms and conditions apply.
Package Includes Rental Of:
Bows
Arrows (Foam Tipped)
Paintball Mask
Rental Paintball Equipment (Paintball Mask, Paintball Marker, Paintball Chest Protector)
Paintballs (Amount depending on package purchased)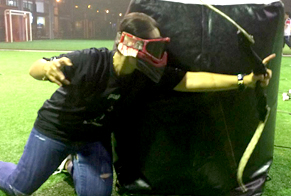 Planning For A Big Group?
For 50 persons or more, email us at info@weplaypaintball.com or call us at 6755 7537 / 6659 4782 / 6659 8095 for a quotation.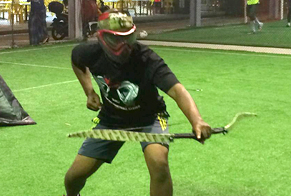 We Can Go Mobile!
If you would like us to come to you instead and hold Archery Tag at your home, office, school, Community Club or event, do drop us an email at info@weplaypaintball.com. We are able to provide all necessary equipment including bunkers and game facilitators.