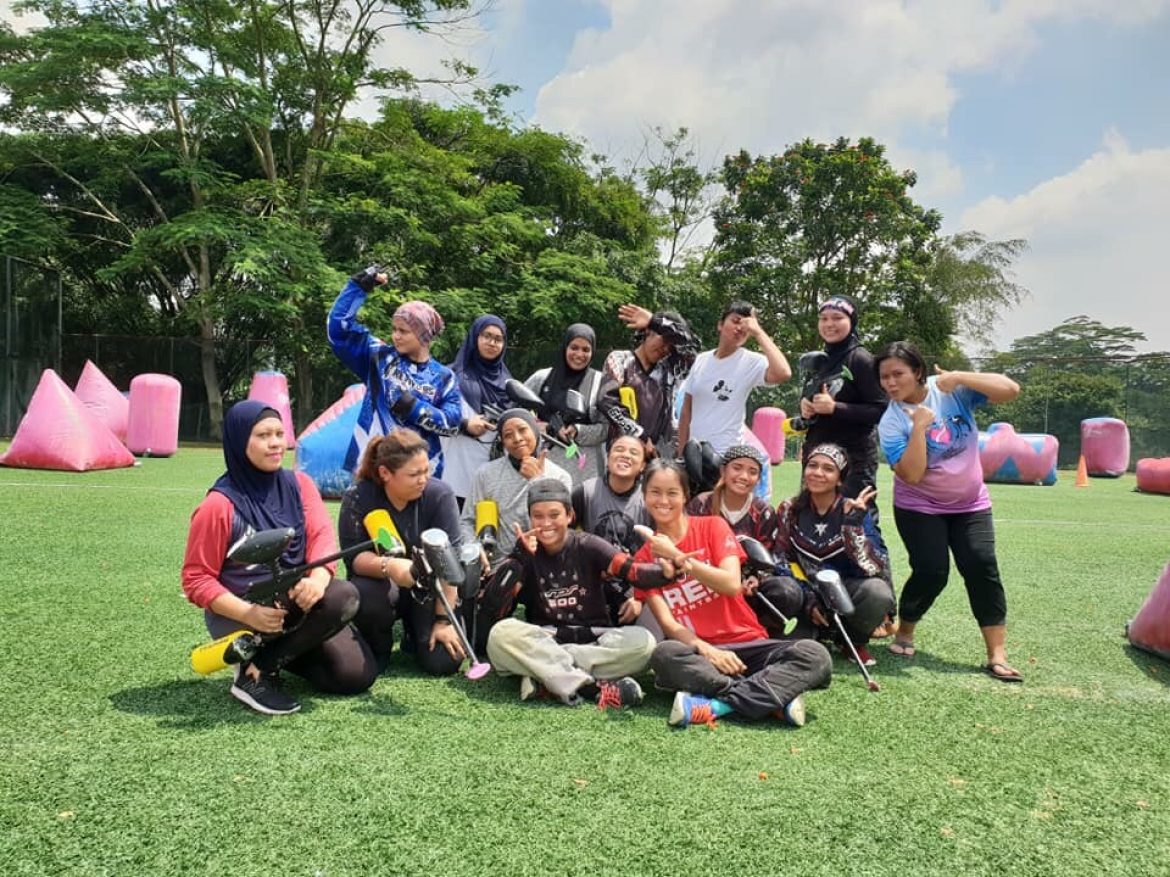 All Girls Paintball AGP Femme Fatale Paintball Clinic 2018
Article by Fidah Alice
Edited by Jane Koh
On 10 Nov 2018, Red Dynasty Paintball Park hosted a group of 11 fun-loving ladies who signed up for the All Girls Paintball AGP Femme Fatale Paintball Clinic. Organized by volunteers Ms Fidah Alice who formed AGP group and Mrs Aifa Ahmad from Grundy Sports Wellness, this sports clinic was the combined effort by both parties to bring ladies together to try out paintball. They also recruited 3 volunteer trainers – Ms Jane Koh, Ms Sheila Mullane and Mrs Mekk Hafizah to conduct the clinic. The ladies broke sweat under the guidance of Ms Jerusha Tan at the safety briefing and the instructors at the warm-up.
Warm up jogs and stretching on the paintball field were light and easy with plenty of smiles and laughter from the participants as they soon learned that the trainers were friendly and loved to crack jokes. Next up was the introduction of basic paintball gear such as paintball mask and paintball marker handling. The participants were shown how to set up, handle and use the equipment safely.
Faziela, one of the clinic's participants, put on her paintball mask, picked up her paintball marker and strutted into the field brimming with anticipation. She and the rest were grouped into fours and shown the basic posture of shooting. As the drill started, she brought up her marker, stood still with feet shoulder length apart and practised shooting at the targets that the trainers had set up some 20m from them. Faziela was led through one drill after another to try out and learn different aspects of the sport. By the end of the first half, the girls were cheering, doing high fives and burpees (thanks to the trainers' little fun forfeit).
After a short break, the ladies were taught break out positions and running lanes to their primary bunkers based on their playing positions. The participants picked this real fast like they had done this before. The games organized for the participants were insanely exciting as the girls put what they had learned from the earlier drills into the games and outdid themselves. Thumbs up to their spontaneity and efforts!
The all girls paintball clinic ended with a surprise award for Ms Lisa for her spontaneity at the clinic. Ms Lisa shared with us, "I play NERF games a lot and never thought that paintball can be this fun. Thank you to Hazrul for introducing me to this clinic. I guess you will be seeing more of me at Red Dynasty Paintball Park! Haha!".
For photos and videos of the clinic, visit our Facebook Page or click here (https://www.facebook.com/252015121601529/posts/1398170430319320/) to view. For the next all girls pantball clinic and event, check out the Facebook Pages of Red Dynasty Paintball Park and All Girls Paintball AGP.