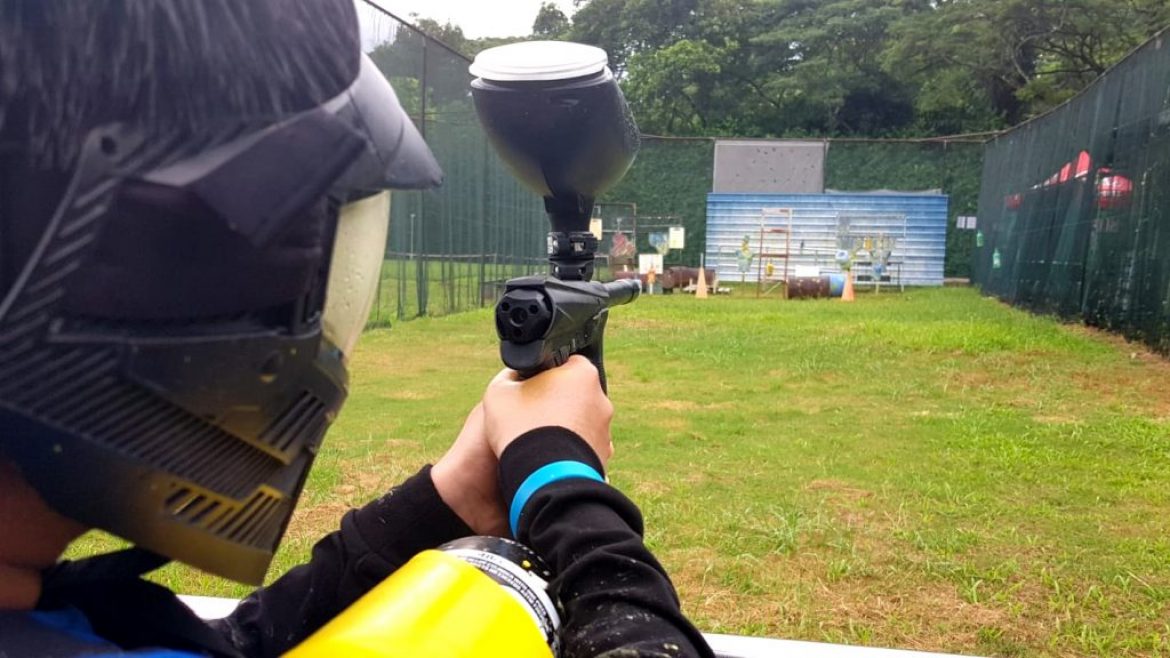 5 Things You MUST Do To Enhance Your First Paintball Experience?
Playing paintball for the very first time?
You may have heard of unforgettable stories and gruesome live encounters from past paintball "survivors" of their amazing experiences. Well… the good news, they all "survived" and live to tell their tales. Truth be told, isn't life about living the present and embracing the future? Haven't you heard to live life to the fullest? Didn't anyone tell you not to feel stress about the future and getting worried for things that have not happen? See the bottle as half emptied and you will always be bothered about the emptied bottle instead see the bottle as half-filled and you might see the other side of the coin. There are always two sides to everything, the perspectives."
If there is anything any consolation to your life's first ever paintball game, it is that millions and millions of people from around the world have played paintball before you and they all survived the mythical "scary" ordeal.
Here are some tips to further improve your experience at Red Dynasty Paintball Park Singapore:
1. Attire

One of the most common questions we often get: "Can I wear my Singapore Armed Forces (SAF) No.4 uniform for paintball?" Technically yes but lawfully no. While the SAF uniform fits most of the bill of protecting your arms and legs while participating in paintball, it is also known that the unauthorized use of the SAF uniform can land you in trouble with the Decorations and Uniforms Act, although there has not been any conviction till date. All you need is a long sleeves shirt, jacket, coveralls, hoodie or sweater that provides ample cover to your arms and a long pants, jeans, joggers or pajamas for additional protection for your legs. Accessories such as scarves, headbands, caps, hats can provide additional cover to more sensitive areas such as your neck and head.
Wear the appropriate attire and enhance your gaming experience, do not play paintball in slippers, tank tops and hot pants. Yes, the weather maybe hot and humid in Singapore but going home without any potential bruises and cuts while running, dodging, hiding, crawling or rolling might see you going home in one piece.
2. Be Punctual

Punctuality is always a virtue. Arrive the paintball field on time to handle all administrative measures such as checking-in, changing into the right attire, toilet break, photo-taking… and the list goes on and on. Finding the location of the field is the most common reasons why most groups start their game late. When you start your games late, you will have lesser time to rest between games and constantly under pressure to finish your allocated paintballs. If you are early, take this time to mingle and establish relationship with fellow participants, the French would call this the compulsory L'apéritif before the main course.
In Singapore, it is part of the licencing condition for all paintball participants to undergo a compulsory safety briefing. In this briefing, participants will be briefed on the do's and don'ts's of the game, history of the game, introduction to the functionality of a paintball marker (gun) but most the importantly of them all, the objectives of the game. Imagine arriving late for the event and missing on a big chunk of information to make your experience wholesome and worth every bit of your investment.
3. Aim And Shoot
Remember you are not a train sniper! Quit thinking of "one shot one kill" because paintball is not about shooting with accuracy but shooting with volume. While seasoned players will have an upper hand in getting the right shot with accuracy, the flight of a shot paintball is dependent on many other factors such as wind direction, air output, shooter's posture and trajectory. It is important to point the paintball marker forward and shoot at will. By shooting at will, we refer to shooting in a general direction towards your opponent and slowly adjust your paintball marker to suit the varying condition. Shoot, spray and pray might stop your opponents but if you are aiming for a win and at the same time completing all the game objectives, you might want to do more than blind firing.
4. Work As A Team
There is no "I" in the word "Team". History has it that all battles are won even before the real fight begin. Working as a team with a good game strategy encompass with roles and responsibilities makes the team formidable. Communication is key. Every player needs to be assigned a role, some on the offensive while others a little more defensive. If Plan A fails immediately switch to Plan B or even a Plan C. To move up the field, someone has to provide the necessary supporting fire. They say, those who fail to plan, plan to fail. Never start the war without talking through it. Paintball is a game of wits more than brawn.
5. The More The Merrier
Plan your first paintball game with as many people as possible. While a typical paintball reservation starts with a group of 5 (in the case of Covid-19 restriction in Singapore), it is still possible to play a Covid-19 revised 5 versus 5 game (with up to a maximum capacity of 50 persons at any one time). The variance between having more targets to shoot versus shooting at someone who is always hiding and never going to come out of the obstacle makes a huge difference in terms of your first gaming experience. With more participants, teams can be grouped to engage and challenge one another in a competition format (e.g. round robin league, single knock-out, double knock-out). Of course, one has to have enough paintballs to partake in a competitive game format. Meeting a different team from the qualifiers to the finals, remind one of the good old days when you have to do a faceoff with the "King" at the final round of any console game.
Ready to organize your first paintball game? For more information visit Red Dynasty Paintball Park, www.weplaypaintball.com
About the contributor: Ben Seow is from Singapore. His involvement with paintball started almost 12 years ago when he organized a paintball team building game for his university mates. Since then, Ben has been involved in the promotion and development of paintball sports across all levels, from establishing paintball fields, organizing of paintball competitions to supplying, distributing paintball gears and manufacturing, he has nearly covered every aspect there is to paintball in Singapore and Asia.