No. of Games: 2
Estimated Event Duration: 2hrs
Only available at ORTO (Yishun), 9am-7pm
Celebrate your birthday at DynastyVille located at ORTO, Yishun!
DynastyVille, the capital of ORTO (YISHUN!), is under siege! With multiple scenarios and intense gameplay, DynastyVille features a life-sized armour tank, snipers' watch tower and civilians' houses and a Bank of Trump where gold is stored. May the best army win!
Invite up to 10 of your best buddies for a paintball session during your birthday month and leave the rest to us.
What you will receive when you celebrate your birthday at Red Dynasty Paintball Park – ORTO, Yishun:
2000 Paintballs (200 paintballs each, based on 10pax)
2 x 9″ Hot Baked Pizza (worth $45.60)
Birthday Gift (T-shirt) for the SPECIAL ONE (worth $15.00)
FREE Paintball Game For The SPECIAL ONE (200 paintballs) (worth over $40.00)
FREE additional 30 paintballs for the FINAL SHOWDOWN
Special game created just for the SPECIAL ONE!
$599.90 NETT
Up to 10 pax (Excluding SPECIAL ONE)
Additional pax at $39.90 each (200 Paintballs)
Package includes rental of: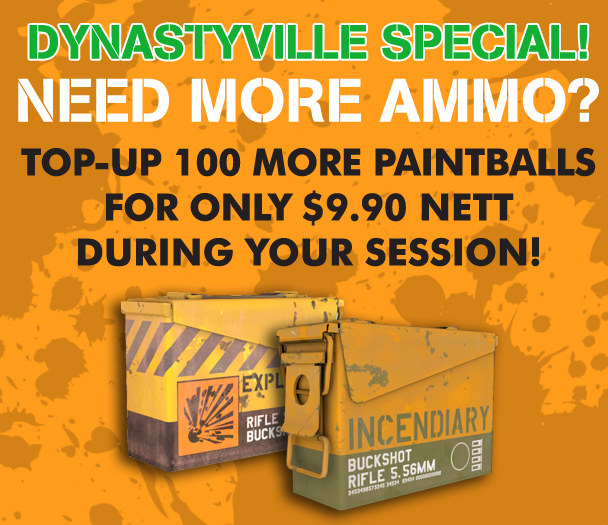 Terms and Conditions:
Proof of birthday month by SPECIAL ONE with NRIC, passport, etc.
A total of 2230 paintballs will be allocated and distributed for BIRTHDAY package.
No cancellation and postponement for reservation once booking is confirmed.
In the case of postponement due to unplayable condition because of weather, 2 x pizza will not be brought forward.
The Birthday Package is for one birthday person. If there are more than one birthday person additional Birthday Gift (T-Shirts) can be purchased @ $15.00
and additional pax can be added @ $39.90 (200 paintballs). There will be no additional pizzas or paintballs for the FINAL SHOWDOWN.
Full payment of non-refundable $599.90 is required to secure the booking.
Only available at Red Dynasty Paintball Park (DynastyVille @ ORTO, Yishun)
Not valid with other promotions.
Normal terms and conditions apply.