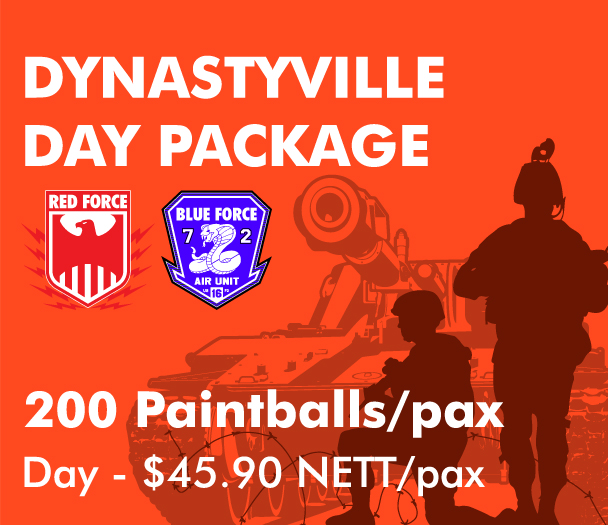 No. of Games: 2
Estimated Event Duration: 2hrs
Day: 9am-7pm (Minimum 10pax)

DynastyVille, the capital of ORTO (YISHUN!), is under siege! The town's rich resources especially rice, gold and water are critical for any side to win The Great War! With multiple scenarios and intense gameplay, DynastyVille features a life-sized armor tank, snipers' watch tower and civilians' houses and a Bank of Trump where gold is stored. May the best army win!
200 Paintballs/pax
Day – $45.90 NETT/pax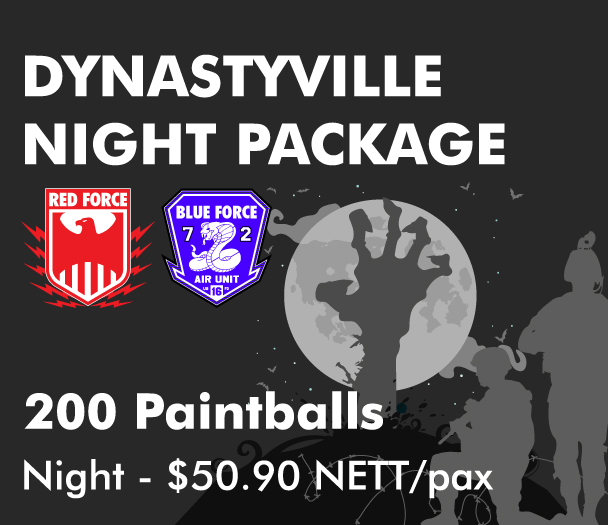 No. of Games: 2
Estimated Event Duration: 2hrs
Night: 7pm-11pm (Minimum 12pax)

Have an unforgettable one of a kind Night Paintball experience at DynastyVille, located at ORTO (Yishun). When the sun goes down and the flood lights turn on, the arena transforms. Not knowing what awaits you at every dark corner keeps you on your toes. Experience night paintball at DynastyVille, a one of a kind close quarter battle (CQB) style paintball arena in Singapore.
200 Paintballs/pax
Night – $50.90 NETT/pax