Congratulations on finding this page! If you belong to any of the following, then you have come to the right page:
Would you like to play and learn more about paintball sports but none of your friends is as interested as you are?
Would you like to pick up some paintball skills so that you can improve your paintball proficiency from recreational to competitive game?
Would you like to meet like-minded players like yourself so that you can either join a regular team to play with or form your own paintball team?
No. of Games: Minimum 2
Estimated Event Duration: 3hrs
Minimum 1pax
Only available at Turf City (Bukit Timah)

Date: Every Sunday morning
(except for special event days. You will be contacted via phone if there is no Single Rider available on the selected date).
Time: Registration will commence at 10.00 am sharp.
Register yourself for our regular Sunday Get Together where all like-minded players gather together to play paintball!
You will be teamed with players (like yourself) who are also keen to pick up paintball as a regular sport and learn tips and tricks of competitive paintball from our facilitator. Given the right opportunity, we will also team you up with more experience players who will be able to guide you along in the sport. So why wait?
300 Paintballs/pax
$60.00 NETT/pax (GST inclusive)
(Payment will be collected during registration at 10am on event day)
Package includes rental of: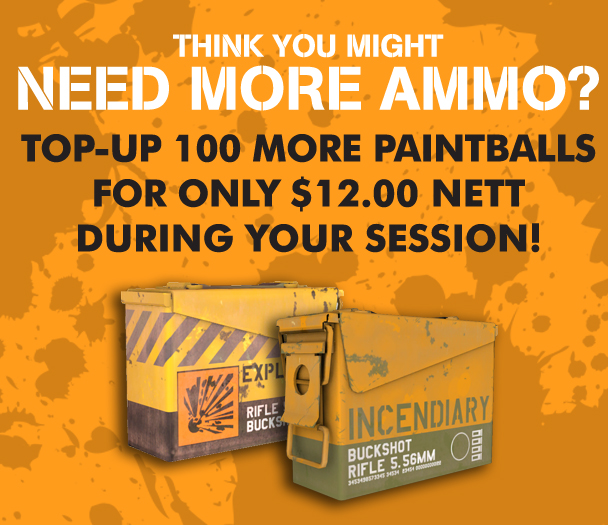 What to bring & wear?
You are highly encouraged to wear loose long sleeves and long pants.
Covered shoes is a must. Sports shoes or street soccer shoes will do. Army boots are not allowed on the artificial turf fields.
You are also advise to bring a change of clothes.
Experience paintball sport in Singapore
Available for purchase on-site:
Images are for illustrative purposes only