Established since 2007. Over the years, we have assisted countless NS Units to forge bonds through paintball cohesion.
You can be sure that Red Dynasty Paintball Park will be capable in handling all forms of paintball requests. We cater to different competency levels of paintball, from beginners to competitive players. Our staff are knowledgeable and well-informed about the game of paintball thus able to provide recommendations on game strategies and facilitation of the games. Our forte is in assisting and organising paintball cohesion events for NS units. We are also the biggest and rated most popular paintball field in town!

A few common questions you might ask.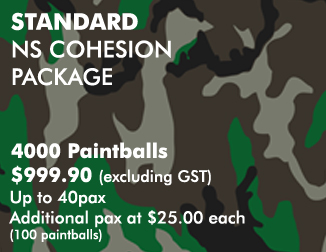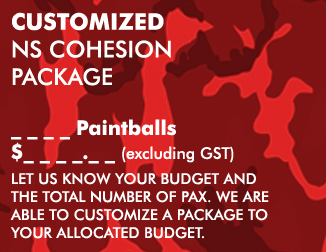 Where do I start?
Simply click on the book now button below and fill up the form. We will get back to you within 1 working day. Alternatively you may email us at info@weplaypaintball.com or call us at 6755 7537 / 6659 4782 / 6659 8095.
Watch this video and see for yourself the best cohesion activity for your company!
What can I gain from paintball cohesion?
Increases Camaraderie
Develop Leadership Qualities
Enhances Decision Making Skills
Fun, Fun, Fun
What is included in the package?
Paintball Goggles
Chest Protector
Paintball Marker
Paintballs
Able to cater up to 500pax in one location!
Red Dynasty Paintball Park (The Cage Sports Park, Bukit Timah) is great for big groups. It has ample space for resting and multiple fields to try.