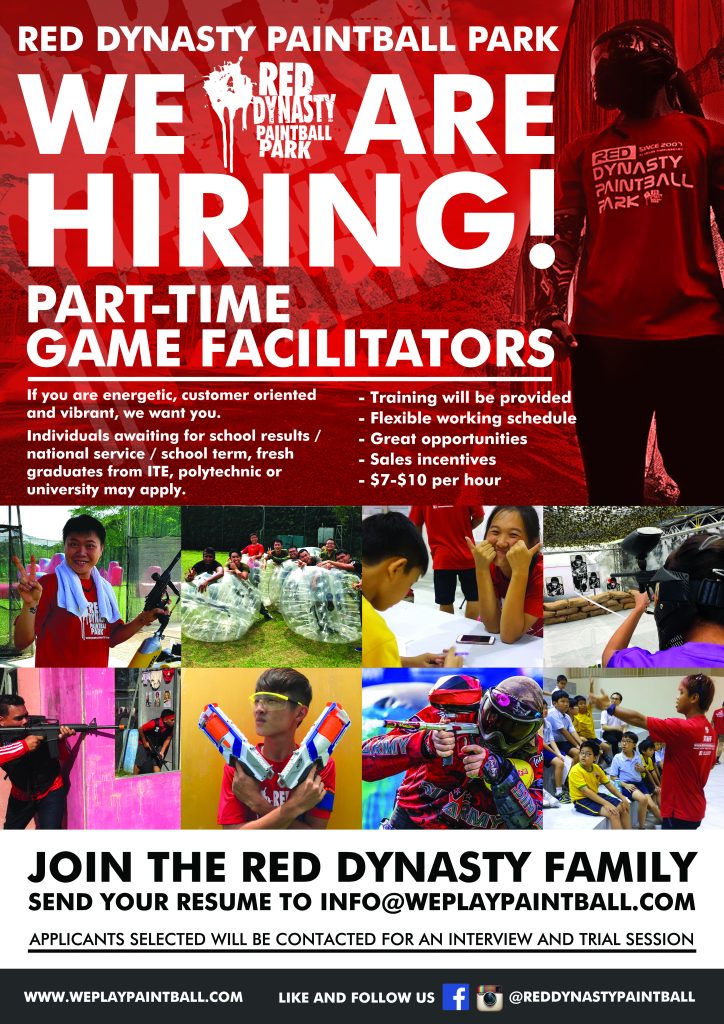 At Red Dynasty Paintball Park, we are always on a look out for game instructors/facilitators to join our team. When you join us, rest assured that we will provide all the necessary trainings for you to manage a booking of your own. If you are energetic, vibrant and outgoing, we are looking for the outdoor you! When you join us, be sure to play an pivotal role in the success of our organization and learn the trades of excellent customer service.
We are looking for the following positions:
1) Game Facilitators (Part Time)
• To coordinate and conduct games for customers
• To assist in other field operations such as field and logistic maintenance
Suitable for individuals who are currently attending school, awaiting for school results/graduation, awaiting National Service enlistment or job hunting.
2) Operations Executive (Sports Events Management / Full Time)
As an Operations Executive, you will be assisting the Manager with the day to day operations which include event planning, execution and after sales service. You will be leading and working with a team of staff in the operations and handling of event bookings. As part of the dynamic team, you will be nurture to work independently and develop your career with us.
• To report and assist Manager in day to day operations
• To assist customers in scheduling and coordination for sports teambuilding events
• To provide excellent customer service for new and existing customers
• To liaise and coordinate with other departments to ensure a smooth event for customer
• To ensure all operation support
If you would like to play a pivotal role in cultivating customer satisfaction where your contribution matters to the growth of the organization or to develop a career with us in a non desk bound job, please send your resume to info@weplaypaintball.com.
Successful applicants who are shortlisted will be notified for job interview.